︎ Adidas
Brief — Bring campaign to life on mobile screens.

Response: Given the hyper modern aesthetic of the Tubular range, the concept was to gather existing campaign assets and turn them into glitchy / futuristic ad units.

These attention grabbing gifs encourage user interaction/engagement. By only previewing snippets, these product glimpses leave viewers wanting more.

Channel: Digital | Mobile

︎︎ Tubular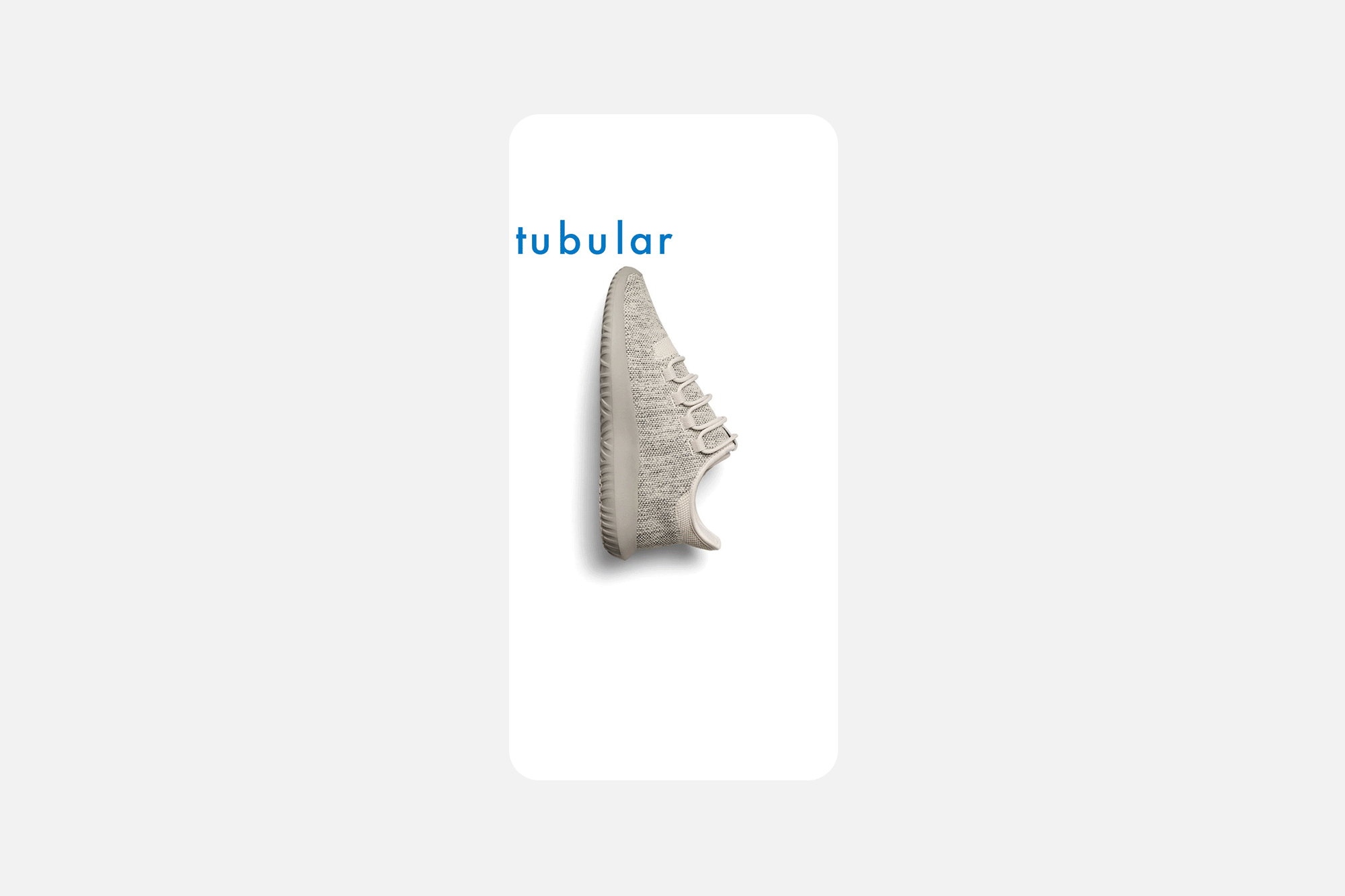 ︎ Nike
Concept Brief—Promote the release of the latest Air Max Plus TN.
Response: A set of social/digital native videos that promote a hashtag with a subtle nod to the Nike Air Max Plus TN history.
In the mid 1990s, Sean McDowell, inspired by the colors of the sunset and the silhouettes of the palm trees at a beach in Florida, created the Air Plus TN. The initial project name for the Footlocker exclusive was dubbed the 'Nike Sky Air'.
Combining these two key historical events through a blend of sunset skies and the notion of flying, the #takeoff series will be a collection of shorts promoting the hashtag and the release of the iconic new sneaker.
Channel: Digital | Social
︎︎ Takeoff



︎ Chatime
Brief—Get a strange but fun product into the hands of a western audience.
Response: Staying true to the brand's witty and gently provocative identity, this campaign was designed to get customers talking. After all, no-one forgets their first time. The 360° brand campaign celebrates weirdness and trying new things.
The videos were shown nation-wide in cinemas and extended to bus decals, radio commercials, billboards, and social campaigns. This resulted in customers (and some celebrities) embracing the playfulness by responding on social media, tagging their first-time partners, and sharing stories.
Channel: Cinema | Digital | OOH | Broadcast | Social
︎︎ My First Time
︎ Ginger & Smart
Role—In house Art Director
Output: In charge of the visual identity (digital, print, web, social, retail) and creative output for the brand.
Collaborated with photographers and videographers on seasonal campaign shoots, ecomm collateral, and look books to ensure that all creative output was consistent with the brand vision.
Channel: Digital | Social | Print | Photography
︎︎ Art Direction 14/15
︎ Volkswagen
Brief— Promote the new Polo campaign on mobile.
Response: Taking the 'Play The City' tagline literally - an interactive app enables users to create and share unique tracks simply by navigating their daily commute.
After selecting a music genre, the gyroscope in users' phones would recognize left and right turns which would introduce different instruments and melodies, creating a unique track that they can download and share.
Channel: Digital | Mobile App
︎︎ Polo - Drive The City